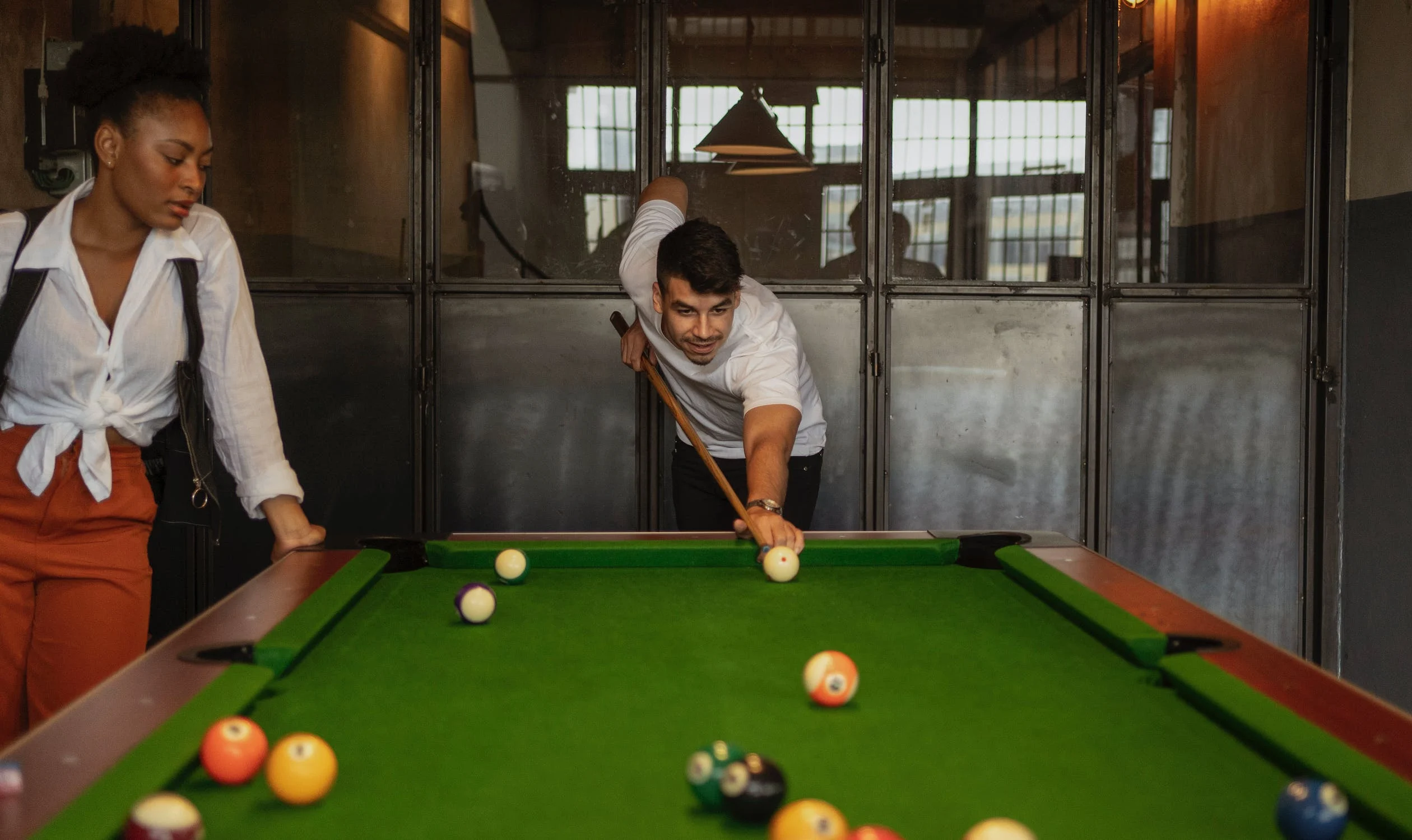 Snooker is as popular in Dublin as it is anywhere in the world. Whether you want to play or just watch, there's something for you in Dublin. Today, we're going to look at some of the best and most well-known snooker clubs in Dublin, and how they compare with one another for your experience.
Let's find out.
CrossGuns Snooker Club
CrossGuns is the oldest snooker club not only in Dublin, but in the whole of Ireland. It has been in continuous operation since 1958. If you're a true snooker fan, you won't want to miss this little piece of history.
Featuring both pool and snooker tables, you can get drinks and refreshments and just have a great time playing some snooker—and they're open seven days a week.
Changing things up by offering a bring your own beer policy, The Breakroom is another of the best snooker clubs in Dublin. With American and British pool tables, as well as their snooker tables, there will be something for everyone here. You'll find this club in Swords, Dublin.
A friendly, warm, and relaxed environment at The Breakroom will mean a great experience for you.
Another hip and trendy up-and-coming snooker club offering a BYOB policy, The Hideout is another great choice to consider. You'll get deep, relaxing, melodic house music and relaxing mood lighting to enhance your snooker experience.
You'll find it in the city centre, making it a great and convenient location to play some snooker. There are snooker tables, as well as British and American pool tables.
Hidden away in North Dublin, this little known club is nestled among the shops of the area and is the last of its kind in the neighbourhood. You'll find high quality snooker tables and equipment, as well as an overall welcome, if more serious, vibe. They serve a variety of drinks including beer.
A great place to relax, have a game, and catch up with friends, but with more of the traditional snooker club experience you might expect.
Finally, we have The Classic. Found in Finglas, this is another somewhat traditional spot with a warm and welcoming environment. Again, it's certainly a place for the more serious player, but that's not to say they aren't welcoming of new players. You just may find you'll have to up your game against the tough competition here.
They too boast both snooker and British and American pool tables. Rates are very reasonable and you shouldn't have much trouble finding a space. It is another somewhat hidden gem, not the most well-known but very popular despite, or even because of, this fact.
You have no poverty of options, then, if you're looking for somewhere to play snooker in Dublin. All with friendly, welcoming environments, and for all skill levels, whether you're looking to up your game to the next level or just for a casual match—Dublin has you covered.
The best biggest Irish snooker events
Snooker is a really popular sport in Ireland, and though a bit more niche than your biggest events, it remains a highly beloved sport in the country. For the biggest televised matches, viewership often exceeds 1 million spectators and bookmakers capitalize on this by offering many free bets on snooker available through sites like Betfree. So, which are the biggest and best of the snooker events in Ireland, both today and in the past?
We're going to look at a few of them, so let's get started.
Irish Masters
The Irish Masters was without doubt one of the biggest snooker events held in Ireland. It was held in different places in many different years, first held in 1974/75, in the National Boxing Stadium, in Dublin. It has been held everywhere from Leopardstown to Kilkenny in the years since.
Steve Davis dominated the tournament most years, winning it eight times over the course of his career. Alex Higgins and Ken Doherty were the two Irish players who won the tournament. This event showcased some of the best snooker talent not only in Ireland, but in the whole world, too.
In 1998, the European Masters was held in Tallaght, Ireland, and was for a year the Irish Open snooker tournament. This tournament has been held since 198, and has gone by a few different names over its time. Outside the British Isles, it was the sole ranking tournament in Europe. It was briefly discontinued but resumed in 2016.
In the 1998 tournament, Mark Williams of Wales was the winner, with Alan McManus of Scotland a close runner up.
Next we have the Northern Ireland Open, a professional ranking snooker tournament which is held as part of the Home Nations Series, a four-part-event tournament in Belfast. The Alex Higgins Trophy, as well as around £427,000 in prize money, is available to the winner. The champion currently is Mark Allen, having won in both 2021 and 2022. Judd Trump of England retains the record for the most titles, winning three times between 2018 and 2020.
Of the ongoing snooker events in Ireland, this is most likely the biggest, best, and most popular.
Originally named the Northern Ireland Classic, the Northern Ireland Trophy was an invitation-only event which was held periodically in Ulster Hall, in Belfast. It was first played in 1981, in which year England's Jimmy White took home the trophy. Since then it has been played in 2005, '06,'07 and '08, and may well be revived in the coming years.
IT was the first ranking tournament to be held in Northern Ireland, and prize money totalled around £200,000. Ronnie O'Sullivan, in 2006, broke an international record at the tournament after beating Dominic Dale in only 53 minutes.
There is certainly no shortage of big snooker events to watch in Ireland, then. The most prestigious Irish tournaments are even internationally acclaimed, and their prizes are highly coveted. Without doubt these covered here are the biggest and best of these events, but there are countless more.